This article explores the diverse array of hair textures that are commonly found in individuals with black hair.
By delving into the unique characteristics of these textures, we aim to provide a comprehensive understanding of the beauty and versatility of black hair, while also offering valuable insights into hair care and styling practices tailored to these specific textures.
This post contains affiliate links and I may earn a small commission when you click on the link at no additional cost to you. As an Amazon Affiliate, I earn from qualifying purchases, thank you.
Whether you have curly, coily, kinky, or straight black hair, this article will help you embrace and celebrate your natural hair type while enhancing your knowledge of its care and maintenance.
We will cover all the topics necessary to help you find the perfect practice to give your hair, how to care for it and show it the love it deserves, so sit back, relax, and write down the information you need, you can as well bookmark this page to come back to it whenever you like.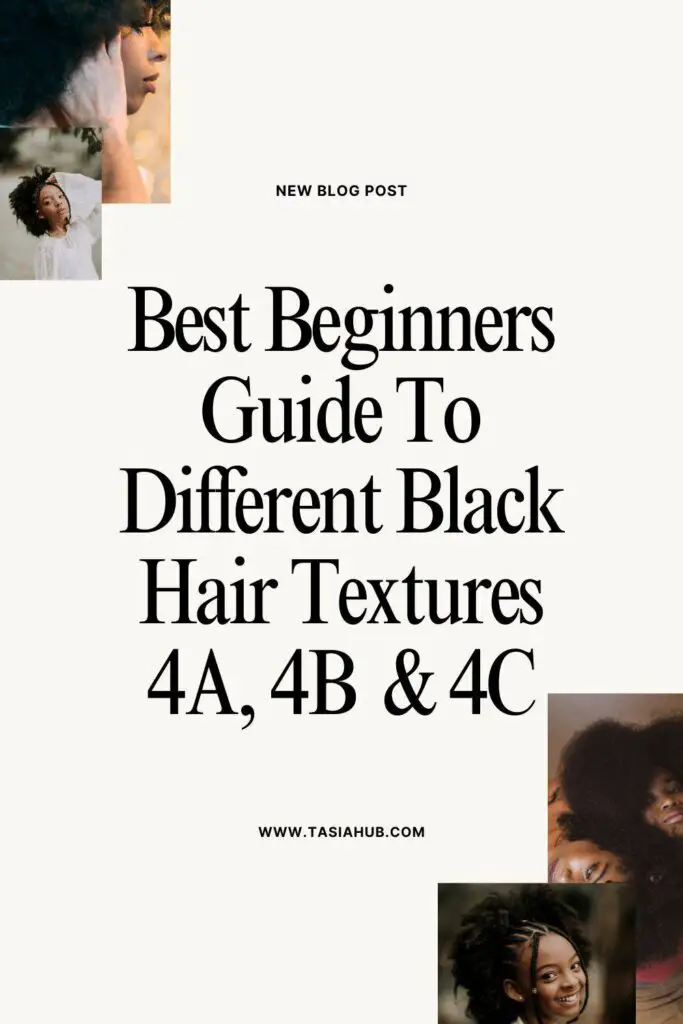 Understanding Natural Hair Textures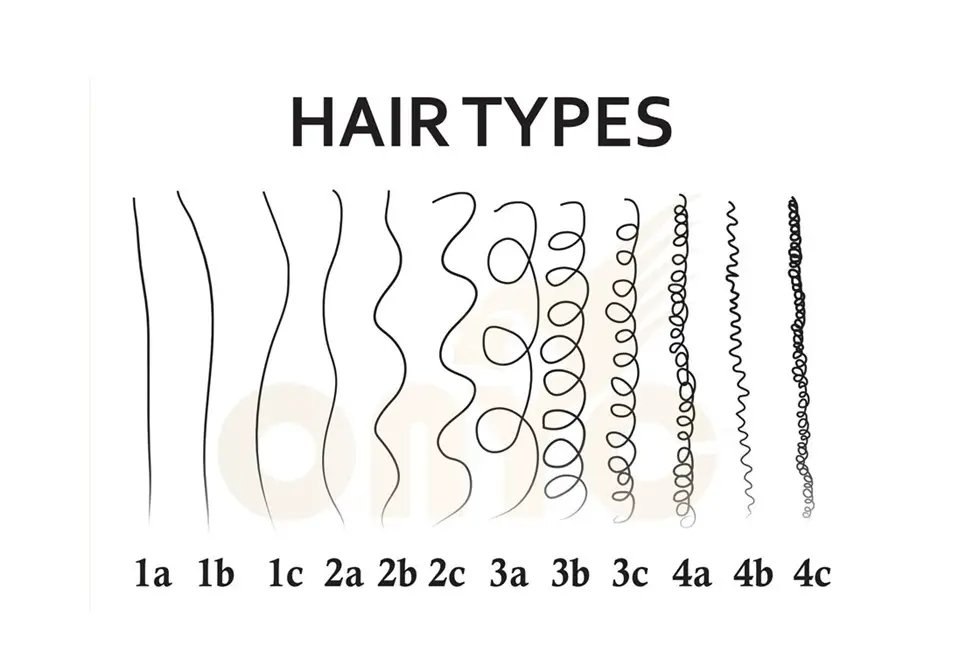 Hair texture refers to strands of hair that have shape or curls, it could be tight, loose, or kinky curls. The texture of your hair does not describe how your hair feels when you touch it but how thick your hair is.
Textured hair is a term often used in relation to black natural hair, although both are not the same, you can identify as having textured hair if you have curly patterns.
There are 3 main natural hair textures:
wavy
curly
coily
In the hair world, wavy hair is referred to as Type 2, curly hair is referred to as Type 3 and coily hair is referred to as Type 4 hair.
Additionally, there are sub-types lettered A-C in these hair textures that help to define how tight or loose your curls are.
What Are The Different Types Of Hair Textures For Black Hair?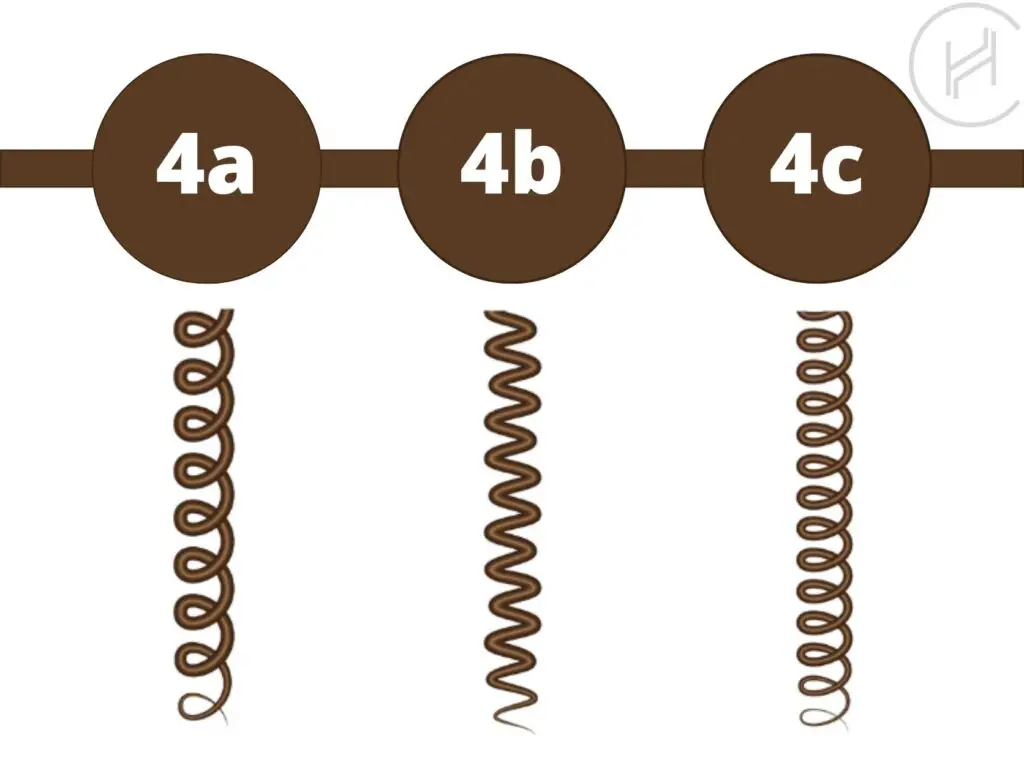 Generally, natural black hair falls in the Type 4 texture and in rare cases Type 3C texture. Black natural hair is also referred to as afro hair and all afros are not the same, they each have different characteristics which makes caring for them difficult especially if you don't know what type of hair you have.
What are the different types of hair textures for black hair?
The different types of hair textures for black hair are 4a, 4b, and 4c.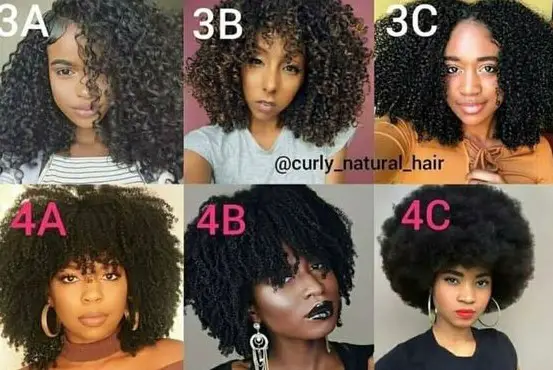 Type 4 hair is known for its kinky afro hair texture ranging from tight coils to z shaped pattern, this type of hair is naturally very dry and wiry making it a very fragile type of hair.
This type of hair is often coarse with strands packed tightly together which makes people believe that type 4c hair doesn't grow long.
4A Hair Type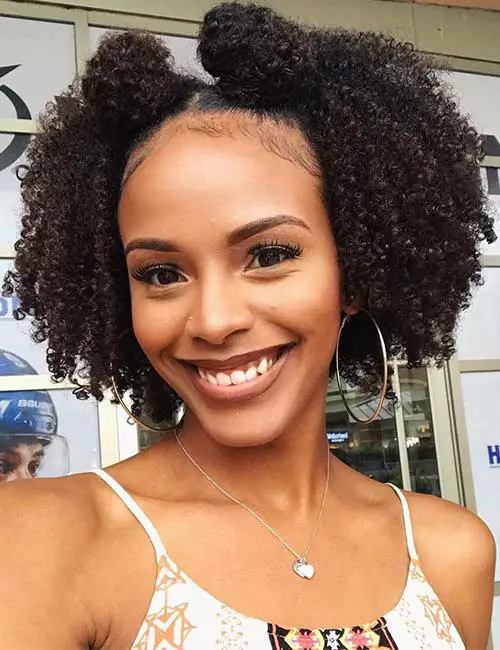 Type 4a hair is identified by its s-shaped curls, what makes it stand out from the 4b and 4c hair types is the fact that its curls are independent, the curls are not interlocked like the 4b and 4c hair types.
The curls of the type 4a hair texture make it easier to style and handle, just a simple wash-and-go method is enough to style this texture of hair.
Type 4a hair texture ranges from fine to wiry which makes it more prone to breakages because of its natural poor protection, therefore it needs a lot of moisturizer to keep it hydrated and protected from breakage and damage.
There are several hair products and natural ways to moisturize 4a hair type, for example, spraying water and massaging it into your scalp along with oils like jojoba or argan oil can help hydrate your hair.
4B Hair Type
Type 4b hair has a z-shape curl pattern, its curls are tighter than the 4a hair type and are densely packed with its texture ranging from wiry and coarse to fine and thin due to the bends on the hair strands.
Unlike the 4a hair curls, 4b curls are less defined and smaller and can be hard to manage. This hair type is 70% prone to breakage and shrinkage so you need to be sure of handling it properly.
Do not stretch your hair when it's dry it can lead to severe brittleness and breakage instead use moisturizing oils like argan, coconut, grapeseed, or castor oil on your hair to make it less difficult to manage and style.
Be sure to use a wide-tooth comb when detangling with a lot of water and sulfate-free conditioner.
4C Hair Type
4c hair type is the last hair type in the hair typing system and also the last hair type when you talk about different types of hair textures for black hair.
This hair type stands as the ultimate thick afro hair, it does not have a defined curl pattern and the hair strands do not clamp easily, the only way to make this type of hair clamp is by braiding, twisting, or shingling.
The 4c hair curls are hard to pin down, you will mostly find a mixture of s or z curl patterns. Type 4c hair also looks way shorter than it really is because of its 75% shrinkage ability.
The texture for the 4c hair type ranges from soft and fine to coarse and thin just like the 4b hair type, the only difference is the tightness and non-defined curl patterns of the 4c.
It's important to note that the 4c hair type is the most delicate hair type because of its tightly coily pattern which makes it very prone to breakage.
This hair type also need a lot of moisture and hydration to prevent hair breakage, you also need to go for protective styles like twist to protect your hair and prevent breakage. Experts also recommend you wear a silk or satin bonnet when sleeping due to its breakage rate.
How To Determine Your Hair Texture
It's not so hard to determine your hair texture. To know your hair texture follow these simple steps:
wash your hair with a sulfate-free shampoo followed by conditioner, and allow your hair to air-dry.
without adding any hair product, pull out a strand of hair, leave it, and see the curl pattern it made.
that is your hair type.
Please note that you may see different patterns of curls when you pull out two or more strands of hair, this is completely normal.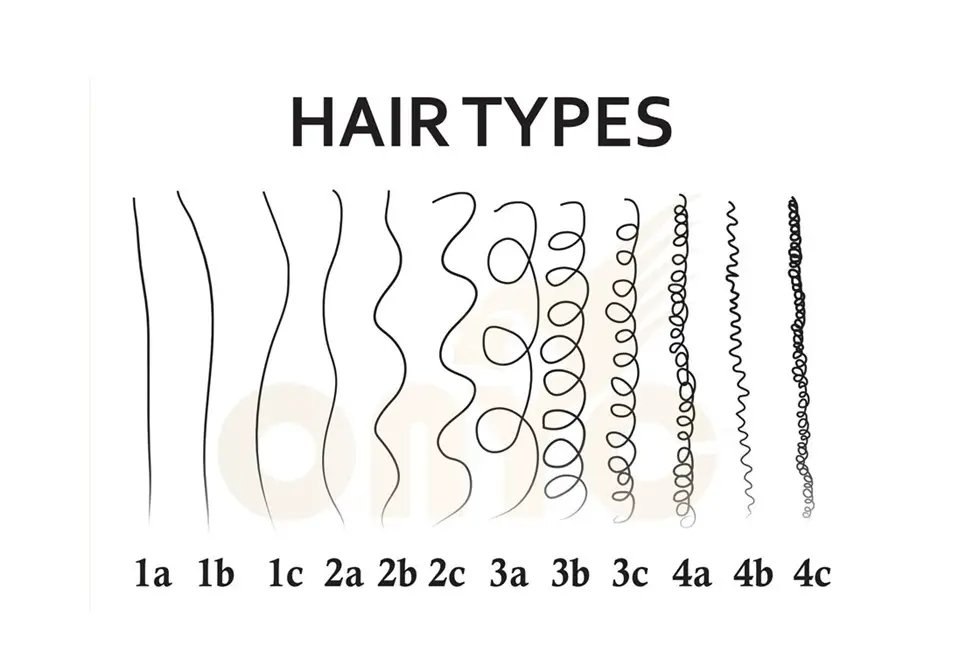 The Best Hair Care Routines For Different Textures
Now that you know your hair texture, how do you take care of your curls? that's what this section is for.
How To Care For 4A Hair Type
Shampoo twice a week: your hair needs moisture and shampooing frequently will strip your hair of its natural moisture, however, feel free to experiment with washing your hair different times a week to know what works best for you. Use a sulfate-free shampoo that will leave your hair moisturized after washing, focus on washing your roots and scalp, and allow the foam to clean the entire strand.
Pre-poo: help your curls retain moisture by pre-pooing before shampoo, your pre-poo can be hot oil treatment, masks, conditioning, scrub or applying protein treatment on your hair 30 mins before shampoo.
Deep condition once a week: deep condition your hair once a week if you wash your hair once a week, the trick is to deep condition on every wash day, that is, if you can afford it.
Moisturize your hair daily: apply a moisturizing leave-in conditioner or spritz water mixed with moisturizing oil on your hair throughout the day.
Detangle gently: prevent hair damage and breakage by using a wide-tooth comb to detangle or just your fingers and a curl cream or oil.
Minimize heat usage: minimizing the use of heat on your curls will not only stop breakage but will also add shine and make your hair softer. Instead of turning to heat to style your hair, turn to curl-defining 4a hair care products to activate your curls, if you must use heat, be sure to protect your hair with heat-protecting products before styling.
Avoid hair styles that cause tension: avoid or minimize hairstyles that cause tension to your scalp, hair like braids shouldn't be kept longer than six to eight weeks. Braids are an excellent way to protect your hair but when kept on for too long can become stressful to the hair, remember to let your hair be free.
Use satin pillowcase: sleeping on a satin pillowcase or silk bonnet will help retain moisture in 4a hair, alternatively, you can wrap your hair with silk scarf or bonnet.
Best Protective Hairstyles For 4A Hair Type
These are some of the hairstyles I've found to suit 4a hair type to protect and prevent breakage.
Bantu knots
Braids
Twist
Pigtails
It is important to note that too much manipulations can damage your hair, if you want your hair to really grow out, minimize manipulations by including protective styles to your hair care routine. Protective styles can help keep your ends tucked away. You can use your own hair or extensions to create a protective style.
How To Care For 4B Hair Type
Shampoo weekly: the curl pattern of the 4b hair makes it harder for oil in your scalp to travel down the hair shaft therefore making it prone to dryness. Shampooing your hair once a week with a sulfate-free shampoo can help your hair retain its natural moisture.
Co-washing: 4b hair type might benefit from co-washing but this shouldn't replace the use of shampoo because co-washing will not cleanse your scalp as expected. It can also be beneficial to utilize the LOC method on your hair for better results, look out for ingredients used in any leave-in conditioner you apply to your hair, and avoid leave-in conditioners that contain hydrolyzed protein as excessive usage can lead to dryness and brittleness.
Pre-poo treatment: before you shampoo, coat your hair with a pre-poo oil, masks or conditioner, let it sit for 30 mins before washing with shampoo.
Moisturize often: 4b hair can be prone to dryness and breakage so they need lot of moisture to help hydrate and reduce breakage. One way to give your hair the moisture it deserves is deep conditioning throughout the day, another way is spritzing your hair with water mixed with oil throughout the day. To make sure you give your hair the moisture it deserves, do a hot oil treatment on a monthly basis to seal in moisture.
Detangle gently: it's easier to detangle 4b hair when it's wet, apply a curl cream or oil and use a wide-tooth comb or fingers to detangle your hair, remember to work in sections.
Avoid heat: use curl defining products and moisturizers to style your hair and allow your hair to air-dry after washing instead of using heat tools and blow dryers.
Use satin pillowcase: use satin pillowcase or wrap your hair with silk scarf or bonnet to protect your hair from breakage.
Avoid silicone: avoid hair products that contain silicone.
Care for protective styles: it's easy to neglect the hair when it's in a protective style but this isn't the right way to care for your scalp and curls. It's necessary to apply a good hair oil to your scalp once or twice weekly when wearing protective style.
Be sure to visit the saloon for a trim every three to four months to keep your hair healthy and keep growing.
Best Protective Hairstyles For 4B Hair Type
These are some recommended protective hairstyles for 4b hair type:
Braids
Twist
Pixie
Bantu knots
Wash and go: sometimes less is more, just be sure to use lot of moisturizing, frizz-fighting and curl enhancing products to keep your hair moisturized and hydrated throughout the day.
How To Care For 4C Hair Type
4c hair types are most often known as the most challenging hair type because of its very tight curls and densely-packed strands, the key to taking care of 4c hair is finding products and styling techniques that help to add definitions, shine and moisture, once you have found the right products, your hair will flourish.
Shampoo less: 4c hair tends to be even more drier than other hair type and when it is not moisturized it becomes brittle, weak and easily prone to breakage. Shampooing 4c hair frequently will only lead to more dryness and breakage, experts recommend shampooing 4c hair twice a month but a person's lifestyle and scalp health may cause you to wash your hair more frequently, when you shampoo, use a gentle, hydrating and sulfate-free shampoo.
Deep condition frequently: use a deeply moisturizing deep conditioner in between washes to help soften and detangle your curls, additionally add a hot oil treatment or hair mask every week to your routine.
Moisturize moisturize moisturize: 4c hair need tons of moisture to keep its coils hydrated and moisturized. Moisturize with leave-in conditioners, moisturize with oil, water or simple butters like shea butter, the key is to moisturize generously.
Try the LOC method: 4c hair type can also benefit greatly from the LOC method. L stands for liquid, O stands for oil and C stands for cream, this could be a curl cream or moisturizing cream.
Stay away from heat: just like other hair type in the Type 4 hair system, stay away from heat styling tools and blow drier, instead allow your hair to air-dry and use curl-defining products and styles to reduce frizz and damage.
Detangle regularly: 4c hair tangles easily and detangling it can be a daunting task, apply a generous amount of conditioners, curl cream or water on your coils and gently detangle with your fingers or a wide-tooth comb.
Less manipulation: low manipulation for 4c hair gives it a higher number of benefits, 4c hair type benefit more from low manipulation hairstyles as over manipulation can increase its fragility which can lead to breakage.
Get frequent trims: visiting the saloon frequently for trims can prevent split ends and breakage. Most stylist recommend you get a trim every 3-4 months if you have a healthy hair. Sometimes a healthy hair may not need a trim for another 8 months, you may need frequent trims if you use heat on your hair.
Use satin pillowcase: protect your hair at night as well, use a satin pillowcase ,silk bonnet or scarf before laying down your head to minimize frizz and breakage.
Drink Water: hydrate your scalp from inside out, drinking lots of water helps to nourish your body giving you a clear skin and of course a healthy scalp.
Wash and go may not really be beneficial for 4c hair type.
Avoid co-washing.
Best Protective Hairstyles For 4C hair Type
These are some recommended protective hairstyles for 4c hair type:
Twists or twist-outs
Braids
Bantu knots
Cornrows
Best Shampoo And Conditioners For Natural Black Hair
Best Deep Conditioners For Black Hair
Best Leave-In Conditioner For Black Hair
Best Hair Oil For Black Hair
Best Hair Cream For Black Hair
Black Hair Types Chart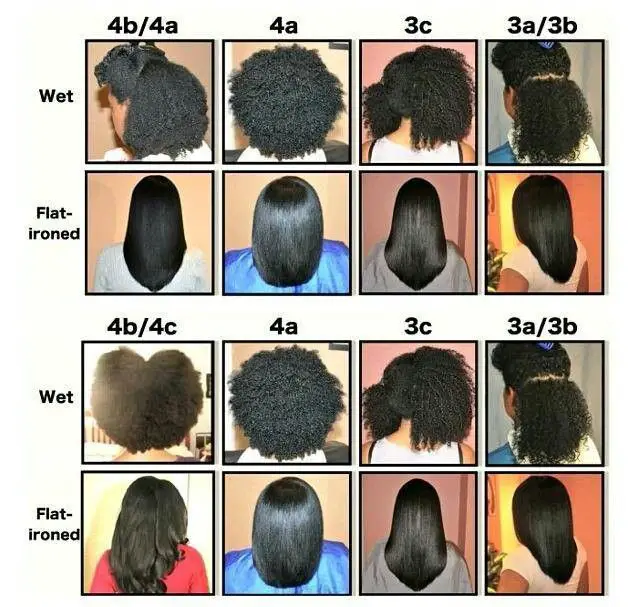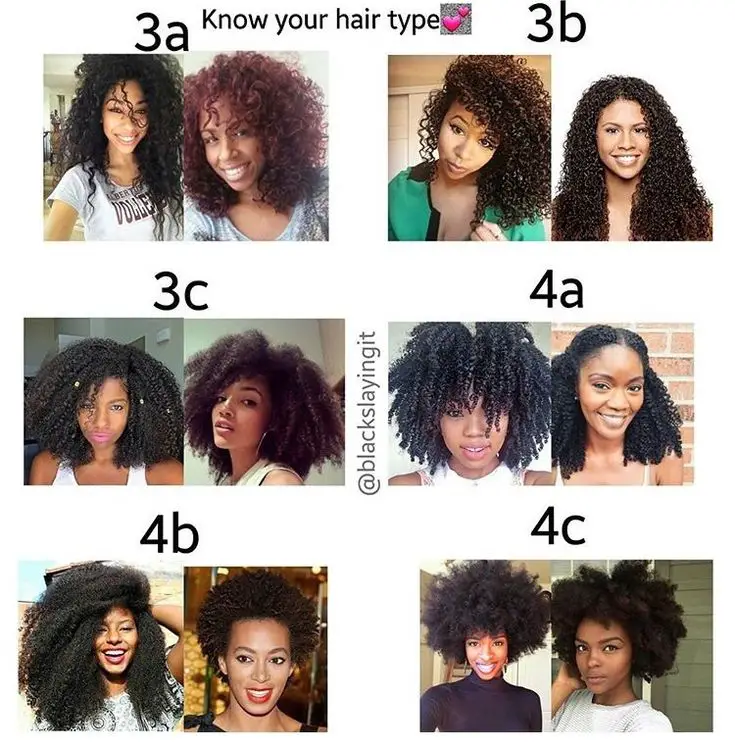 What Is The Hardest Hair Type To Maintain?
The hardest hair type to maintain is the type 4c. Why? because type 4c is naturally very dry, has no definition, has a very tight coil pattern, can be difficult to style, and requires daily maintenance.
Nevertheless, type 4c hair type is one of the most beautiful hair type when taken proper care of, if you have a type 4c hair type, don't hate your coils, love them and embrace them.
Type 4C hair can be easy to maintain and style if you have the right techniques and know what works best for your hair, how do you find out what's best for your hair? You need to experiment with different styling techniques and different hair products to know what your coils love.
Conclusion
Black hair comes in a variety of different textures, and the key to maintaining healthy, glossy hair is finding the right techniques and products to suit each type of hair. With this blog post as your guide, you now have all the information you need to identify your hair texture and the best routines to keep it looking and feeling amazing
Now that you understand the different types of black hair textures and the best methods to care for each one, why not start experimenting with different styling techniques to find the perfect look for you?