I decided to have a nose piercing some months ago and it all went wrong. So in this post, I'm going to talk about my experiences after piercing my nose and what I did to make my nose piercing heal faster.
But first, let's answer the question, "how long does nose piercing take to heal"?
It takes about 6-12 months or even longer for a pierced nose to completely heal depending on where you have the piercing and how fast your healing process is.
You might have heard or read somewhere else that it takes about 4-6 months to heal, but remember, I said this post is based on my experience and mine took about 12 months to completely heal.
This post contains affiliate links and I may earn a small commission when you click on the link with no additional cost to you. As an Amazon Affiliate, I earn from qualifying purchases, thank you.
How To Know When Your Nose Piercing Is Completely Healed
When a nose piercing is completely healed, you can take out your nose stud or ring for two days or even a week and the pierced area will still remain open but if it's not completely healed, it will close up two days or even immediately after removing your nose stud or ring.
What I Experienced After Piercing My Nose
So I pierced my nose twice on the same spot after I let the first pierced area to heal and close up.
I pierced twice because I had problems with the first pierced area, the first thing I would say contributed to it was the fact that during the piercing session, it didn't go smoothly because the guy that did the job tried piercing twice and during that period I was bleeding as well.
Not like he wasn't a professional but he just had trouble piercing it at the time, so that was the genesis of the problems I had with the pierced area.
Two days later, I started noticing small bumps around the pierced area, I spoke to the person who did the job and he said I need to puncture it, now that was when my second problem started.
After puncturing it, it seemed like a nightmare, I kept puncturing every other week, my nose will sometimes bleed and bring out pus.
During those times, I thought I was allergic to the jewelry, so I constantly changed the jewelry I wore and there was still no improvement.
That was when I decided to leave the nose to heal and close itself because it seemed like nothing I did worked for me.
After I pierced again, the only problem I faced was the bump and knowing that puncturing it will do me no good, I started searching for what I can do to remove the nose bump without touching it and I found a solution that removed the bump in two days.
I will be sharing what I used on my nose piercing bump soon enough but first, let's look at a nose piercing healing process so you will know and understand that some things you may experience are normal for a newly pierced nose.
Nose Piercing Healing Process
The Acceptance Stage: during the first few weeks, your body recognizes and start closing up the wound around the pierced area, it replaces the pierced tissue with a new tissue.
During this process, your blood clots hardens around the jewelry and you start noticing swelling (nose piercing bump) on the pierced area, the swelling happens because your body is trying to reject the piercing and jewelry.
You may also experience bleeding, pain and warmth.
2. The Healing Stage: this happens in the first few months after the swelling and bleeding stops, you will start noticing a yellow-like substance on the area, be rest assured that this is normal, it's all part of the healing process.
3. The Maturation Stage: this is the final stage of healing, by this stage, you will be able to fully remove the jewelry without bleeding and without the area closing itself for a few days or week.
This stage takes a lot of time to complete, mine took up to 12 months and still counting, yours might be less or more, so just be patient.
How To Treat Nose Piercing Bump At Home
Please do not rupture your nose piercing bump, it will only worsen the situation, try this simple at home remedy and say a forever bye-bye to your nose piercing bump.
take two tablets of aspirin and crush it into a smooth powder
add a drop or two drops of water and mix with the powder to form a paste
apply the paste on the bump and leave for 30 mins, you may feel a little sting while its on your nose, this is absolutely normal
wash off after 30 mins and dry your nose, repeat this process two times a day
And that's it, very simple, you should start seeing the bump disappearing the next day or two, below is a photo of when I did mine, I'm sorry it's not clear but you should be able to see the aspirin on my nose.
Feel free to repeat this treatment every single time you notice a bump, it's totally safe.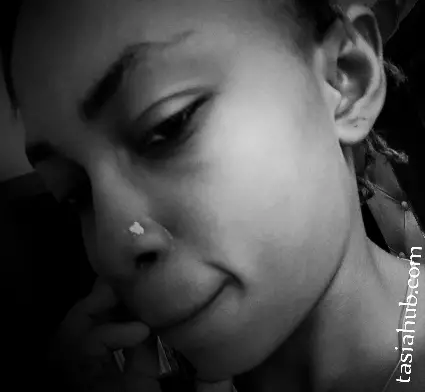 Nose Piercing Aftercare Solutions
Below are some factors that can cause a piercing bump and slow down the healing process:
always putting your nose in water: unless your are cleaning it, keep your pierced nose out of water.
sleeping on the area where you have your piercing: try to sleep on the opposite side of your nose and not on the side where you have your piercing.
catching nose stud/ring on something: be careful not to catch your nose stud or ring on your cloth or anything to avoid irritating the area further, irritating it will lead to a longer healing period.
infection: contracting an infection will also slow down the healing process, you can contract an infection if you constantly do the above things I mention.
Always follow the instructions given by your piercer so as not to contract an infection.
reaction to a jewelry: sometimes you might be allergic to a particular jewelry especially to cheap metals, try changing your jewelry if your piercing makes you fell uncomfortable.
Summary
Using piercing guns can cause more damages than using a needle to pierce the nose and because of this, you may have a longer healing period.
After piercing, it's advisable to wait for two months or more before changing the initial piercing jewelry, so you need to choose a jewelry you love and will be comfortable with before piercing.